Issue #16: Talking Translation
A discussion about translating J-pop lyrics with @kimonobeat, a feature on the new SDS compilation, and a look back at Kinki Kids' debut hit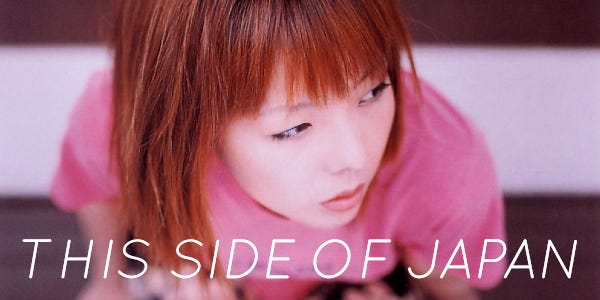 Hi! Welcome to This Side of Japan, a newsletter about Japanese music, new and old. You can check out previous issues here.
Since I started to do more translations for This Side of Japan as reading material, I wanted to chat with my internet friend who's best known as @kimonobeat on Tumblr. K has been translating J-pop lyrics to English since she was a child first for herself and now for J-pop fans on the internet. Her archive via Tumblr runs very deep, ranging from the top of the Oricon to the alt-idol scene, from the current Reiwa stars to the Showa classics. We discussed the details of the translation process, the J-pop audience who request her service, and our personal observations of J-pop lyrics.
You can request K for J-pop translations via Ko-Fi.
Can you tell me how you started translating Japanese songs? And how fluent in Japanese are you? I've never taken the JLPT or anything, so I can't give an exact measure, but I can understand most music, films, TV shows and manga pretty fine, but it would probably take some work if I ever wanted to get cracking on a novel or some political-opinion piece.
K: I'm half-Japanese but didn't grow up speaking it at home. When I was about 10, I got my parents to buy me a small dictionary so I could learn on my own. Music was such a natural and fun way for me to absorb new words that I spent a lot of time painstakingly writing out lyrics in Japanese, translating them for myself, then comparing them to whatever I could find on the internet (not much). That eventually evolved into sharing them with my friends, then on the internet... and now here we are!
As far as my fluency, I'm certified JLPT N1 and have worked both as a freelance translator and an in-house translator in the past. I can understand most books, TV shows, etc. without trouble! I just haven't spoken Japanese out loud in so long I'm almost afraid to call myself fluent, haha.
Part of why I enjoy translating is that it's a learning opportunity for me too. I only speak Japanese when I talk to my parents, so it's a very different, rewarding experience when you read and try to articulate more complex thoughts in Japanese expressed in like a personal essay or a song lyric. That's what really got me into Ayumi Hamasaki, just discovering her emotional lyrics during a time I was familiarizing myself with the language in ways I didn't really experience before. Were there any lyricists or artists in particular who really caught your attention and opened your mind when you started translating lyrics?
K: I really enjoy reading your translations since you delve into artists that aren't as well-known in the international community! Ayu was definitely my biggest influence and first love in J-pop. Thanks to her, I spent a lot of time in the early to mid-00's listening to other female singer-songwriters/lyricists like Hikaru Utada, BONNIE PINK, Ringo Sheena, Kaela Kimura, YUI and aiko, trying to find someone else speaking their truth through music. aiko in particular caught my eye early on because her lyrics feel relatable almost in spite of how specific she can be about mundane details. I also remember being fascinated by Ichiro Yamaguchi's repetitive, poem-like lyrics when I discovered the Sakanaction in 2011, which is why aiko and Sakanaction were some of the first artists I started translating on my Tumblr.
You mention how songwriters like Aiko and Yamaguchi have their own distinguished styles. What are some struggles you face trying to retain those quirks and nuances while translating? 
K: I find Sakanaction lyrics challenging because for a while, Ichiro had a very specific 'palette' of words he liked to use. Lots of nighttime and ocean imagery, very specific adjectives, repeated lines as double entendres. I try my best to maintain the same English vocabulary across their discography, but that can be difficult to do while still making sure it flows well. Other artists who write from experience (like aiko) also pose interesting challenges because I'm not really sure what they're referring to.
Do you ever think about how the translation would read rhythmically? It's very tough for me to capture the meaning of a line in a verse but also not making it read so convoluted. That's where I found a big difference between Japanese and English songs. The former can fit a lot of dense thoughts no problem, but for the latter, complex words just end up making the line feel bloated and rigid, which isn't very appealing in a pop song that thrives from brevity.
K: Definitely! I try to keep things roughly the same length and feel by localizing wherever appropriate, especially when it comes to rap sections or songs. Compared to a lot of other Japanese culture fans, I think J-pop lovers are more understanding of loose translations. If the meaning or original intention is important, I usually leave things relatively intact. It just makes sense to have a throwaway pop song read like just that in English rather than translating word for word, and accidentally making it appear more formal than it's treated in Japanese.
You can read the rest of the conversation here.
***
This issue is a much longer one than usual with the conversation above and a more expanded Album of the Week feature, so I'll keep it short here. Singles Club and our look back at the Oricon is still the same. Happy listening!
---
Album of the Week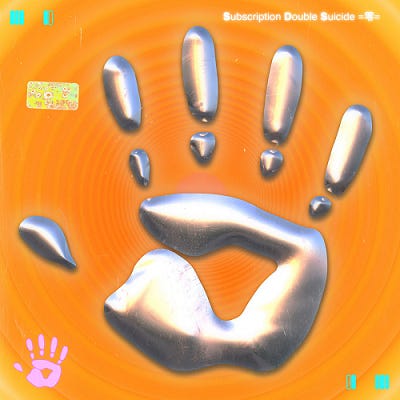 S.D.S. =Zero= (Subscription Double Suicide)
by Various artists [EM]
Listen to it on Bandcamp
Curated by producer CVN, S.D.S. =Zero= offers an amazing snapshot of Japan's digital underground. Like the liner notes points out, the artists included in the compilation are not tied by a single label or scene but more through approach to genres and ideas. For this issue, instead of a general album write-up, we'll dedicate this space to go over each featured artist and see what they're about. But first, here's the liner notes via Bandcamp:
Launched in an uncertain time, here are 12 tracks from 17 new independent Japanese artists, a physical release from a generation which has an online-release default setting. Not a scene document, not a label sampler, and not a showcase for a collective, this compilation features a selection of artists from all across Japan, selected by ex-Jesse Ruins producer CVN. These songs are snapshots of a sensibility shared by these artists: a love of contemporary electronic pop music, an awareness of melody, and an appreciation of the musical options provided by technology. Not techno or ambient, there is an emphasis on the human voice, with elements of hiphop, trap, EDM and bass music, all subsumed into multiple facets of a glowing electronic bedroom pop gem. Available on CD, vinyl and digital, with English liner notes, lyrics and artist information. These songs are seeds of hope for the coming post-pandemic parties.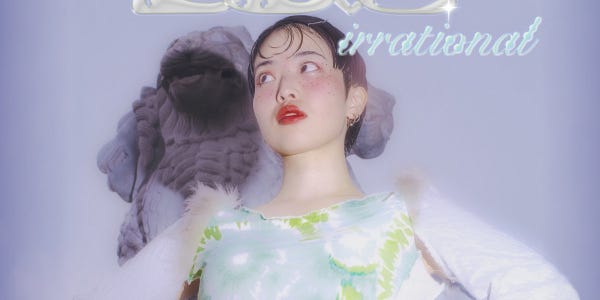 Dove
► "Irrational" [Irrational, 2019]
While Dove drifted about in her debut single, the hypnagogic R&B "Femm," the singer steps on to the stage to rock a punchy club beat in the title track to her latest Irrational EP. The music is still coated with drowsy, forlorn keys—a signature of sorts by her trusted producer-collaborator Le Makeup—but the song quickly awakens the body through the banging drums that sounds at home in a deconstructed club mix. Dove sways along, getting lost in the hypnotic shuffle.
Further listening: Femm (2018); Irrational (2019)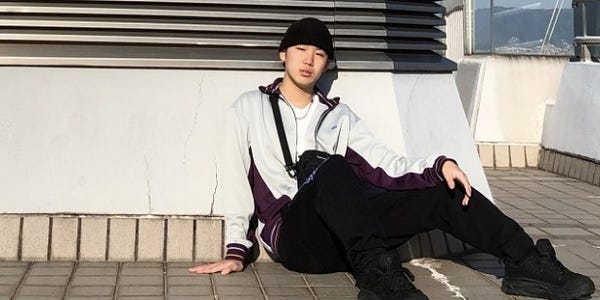 Lil Soft Tennis
► "Feelin' Love" [Feelin' Love EP, 2019]
Lil Soft Tennis is loosely rooted in rap, his verses punctuated by hyped ad libs as he settles into a sing-song flow. But he frequently ditches the rapping to fully sing, and he likes to lay his voice over sounds of the non-hip-hop variety, looping punk riffs in "Skrr Skrr to Babylone" and a lo-fi garage-rock strum in "Lucky," both from last year's Feelin' Love. The EP's title track throws all the materials in his toolbox into a blender. He plays a chill hippie-rock riff while trap drums sputter about, and the metallic electronics distort his presence into digital dust. What ends up holding it all together is his croon that carves a sweet melody out of the sonic mess.
Further listening: Feelin' Love EP (2019); Season (2020)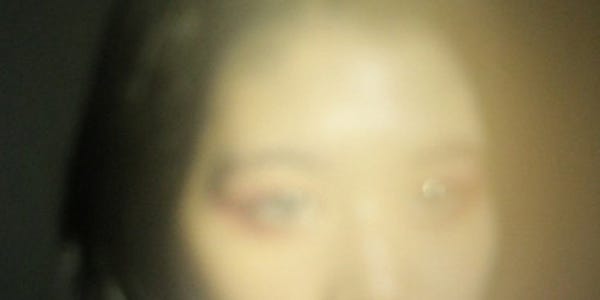 Tamanaramen
► "angelnumber" [single, 2019]
Tamanaramen burrows herself between the deep echoes of her music. As if the murky glow smeared over her insular lo-fi pop didn't already force you to squint, her breathy murmur further makes her songs feel indecipherable. That said, she's far from an introvert. Though her voice remains soft and meek, she eagerly throws herself into a wilder bass beat in "angelnumber." With her also dancing to more straightforward, Factory Floor-esque techno in "mei mei" or remixing the violent rage of CVN's "Seabed" into some chill house, she seems more than willing this year to branch out some more.
Further listening: organ (2019); sour cream (2020)
Check out the rest of the artists in the full feature here.
---
Singles Club
"Back" by Ayutthaya [self-released]
Ayutthaya's frontwoman Mio Ohta in her band's new single, "Back," sounds as though she's been itching to air out a few things. The rhythm section may initially sound poised, standing by for further directions, but it all bursts free once Ohta kicks into the chorus. "Don't worry about some future that makes no difference," she sings in the final verse after the growling guitar solo, like she finally gets to unclench her fist. "So what, who cares / it's not like we know anyway." Remaining idle feels useless during the three-and-a-half minutes of "Back" while the band urge everyone to just go with the flow.
I Know, Right EP is out now. Listen to it on Spotify.
See also: "Na No Naihi" by add; "Lose / Lose" by A Sketch Pad
"nambu" by dodo [FNT]
I like to describe dodo's music as "inaka rap"—a term I made up just for him and maybe Sushiboys so far—from his penchant for rapping about not only the mundane of the suburbs and countryside but also this need to cling on to the little things, no matter how banal, so he can have something to celebrate in a life in a neighborhood without much extravagance to offer. The first song of his that caught my attention, for example, was a song dedicated to being thankful for having consecutive days off work. If this was the early 2010s, I might also call his music "based."
"Nambu" off the rapper's new album, normal, follows this vibe with dodo penning a thank-you letter to the Nambu train line that runs through his hometown in the Yamazaki prefecture. The beat wears a homemade shine, looping a twangy acoustic-guitar melody as the base. What's different, though, is that he's now journeying away from his beloved inaka, and the titular train line provides the channel to escape into a more exciting future.
normal is out now. Listen to it on Spotify.
See also: "Air Conditioner" by Neibiss ft. Tsudio Studio; "Jiai" by NENE
"Madoromi" by Frascotation [High Beam]
The main guitar riff of "Madoromi" is already entrancing through its towering size but also the smearing reverb that softens the edges of Frascotation's single. It engulfs the track whole when it comes rushing in after the chorus, and it fittingly gives a sound to the all-consuming infatuation felt by vocalist Mami Sato. Her mention of believing their sweet little lies only colors the song with more dreaminess—an almost too-perfect layering of sensations for a track titled "Slumber."
Kokyuu No Keishoku is out now.
See also: "End Roll" by Inner Journey; "Parade" by Sway Emotions Slightly
---
This Week in 1997…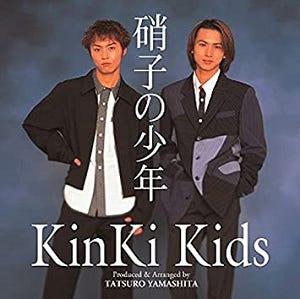 "Garasu No Shonen" by Kinki Kids [Johnny's Entertainment, 1997]
No. 1 during the weeks of July 28 - Aug. 11, 1997 | Listen to it on YouTube
I grew up during the second wave of the Johnny's boom with Hikari GENJI gone and boy groups like TOKIO, SMAP and V6 following their lead in the '90s. From that decade's pack, second to SMAP, Kinki Kids are the act that I hugely associate with my childhood. I didn't exactly listen to their music—I didn't listen to music at all when I was little—but they were so omnipresent in Japanese entertainment that an immigrant child living in America like me still recognized their name, thanks to my parents keeping up with variety shows via VHS recording from rental video stores. When I was asked about my favorite musician as a part of an icebreaker for my first day in third grade, I remember writing Kinki Kids because that's the only name I could think of.
Despite my complete lack of engagement with pop culture, 8-year-old me had already somewhat internalized that I wasn't supposed to exactly like the duo's debut hit, "Garasu No Shonen." This was around 2000 with *NSYNC and Backstreet Boys both at their peak, and I've already learned then that boy bands aren't cool to openly like. When I recently revisited "Garasu No Shonen" after not touching it for almost 20 years, I felt nostalgia but also a weird feeling of resistance even though I've undone those pretensions long ago.
"Garasu No Shonen" offers a lot of material to convince anyone reluctant to get into a boy-band single. The biggest hook is the music, credited to the legendary Tatsuro Yamashita. The city-pop icon's boogie-funk remains a bit incognito, his suave guitar licks providing a shadowy flair and the subtle strings giving it a slyly cinematic turn. The more flashy element is the main silvery piano riff that could be flipped into a loop for a house joint in the right hands.
The pianos sound a bit chintzy, but it also seems intentionally uncool to a degree to highlight how green Kouichi and Tsuyoshi Domoto sound singing about their relationship troubles. Written by Happy End's former drummer Takashi Matsumoto, the lyrics favor more sappy gestures and turns of phrases as though the two are trying to compensate for their naivete. The chorus sets up a particular cheesy scene that's straight from a movie: "I kick the can on the street/ and turn my back to your side/ of the bus window," they sing about their bitterness towards their ex-partner's betrayal. The only thing missing is the heavy rain.
The teenage attitudes of "Garasu No Shonen," or The Boy of Glass, work even better specifically coming from a duo of young boys. Both 18 at the time, they definitely look the part of the boy going through perhaps his first heartbreak and a breach of personal trust. Their dramatic responses as well as their fragile egos befit their adolescent character. Tatsuro Yamashita has covered it on his own, but such a song is best meant for a boy band to sing.
Next issue is out August. 19. You can check out previous issues here.