Issue #3: Boku Wa Iyada!!
Rockin' out to the new Tricot album, BUCK-TICK's number-one and 3 new singles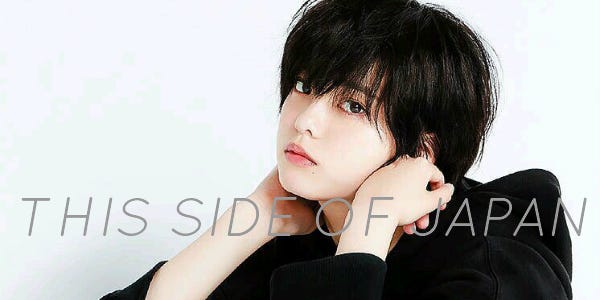 Hello! Welcome to issue #3 of This Side of Japan, a newsletter about Japanese music, new and old. You can check out previous issues here.
On January 23, it was announced that Yurina Hirate will be leaving Keyakizaka46. The year has already brought major idol graduation news, but Hirate's departure from the group feels the most significant to the idol scene so far.
Hirate's decision to quit—the statements report her exit from the group as not a graduation—essentially leaves Keyakizaka without a center, a position taken by Hirate since the their debut single, "Silent Majority." She has been the most visible out of the group, even earning herself a star role in a film, but she has been more than a main focal point. She personified the brooding teen voice that defines the group's music. There's no better example than the live performance of "Fukyowaon." "I don't want this," she screams with all her might during the song's climax, where the group gives one last go to fight against conforming to the status quo.
As important as she is to the group, Hirate deserves some time away from the spotlight. She pours so much intensity to her gig to the point of completely wearing herself out. She was one of the few members who collapsed due to exhaustion during a performance of "Fukyowaon" at the 2017 Kouhaku Utagassen. The idol was absent the following year's year-end music event due to a hand injury. And she appeared in Keyakizaka's first senbatsu in 2019 with a cast on her arm. It's about time she rests for good.
Keyakizaka46's next move has felt uncertain since last spring's "Kuroi Hitsuji." The group put out a Hirate solo single, "Kado Wo Magaru," in November, and appeared on a series of year-end TV performances, but their upcoming yet-untitled single got put on indefinite hold last December. "As we continue to work, we want to pursue making a better product," representatives announced on the official site. With this big news, plus a graduation of two more members, the release of new music will probably take a lot longer.
I'm sad to see Hirate go, but I'm also very curious about Keyakizaka's future without her. The group experienced a similar scenario in 2018 when other members took her spot temporarily for TV while she was out due to her injury. Their interpretation of their songs about teenage fatalism certainly looked different with a different person at the center. However, others in Keyakizaka looked more than capable of embodying that moody intensity. It's going to be a challenge to fill her shoes, but a new center can potentially introduce a new side to their singular personality.
***
This issue is rock heavy, so I hope you like guitars! There is also some idol-rap if that's more up your alley. If you need more music, I recently shared a round-up of Japanese albums I enjoyed from January. Happy listening!
---
Album of the Week

Black by Tricot [Avex Trax]
Release date: Jan. 29, 2020
Recommended track: "Black" | Listen to the album on Spotify
Tricot's first single since signing to Avex Trax last year, "Afureru," suggested their move to the majors hasn't changed their trajectory in the slightest. The rock band refused to restrain their unabashed math-rock, and frontwoman Ikkyu Nakajima reveled in the unpredictable nature of her surroundings. Tricot continue to navigate their unwritten future together in Black while holding on to the strengths that got them there.
The grace and control of "Afureru" stands more as an exception when it comes to how Tricot deal with a life full of uncertainties. "Watch" is similarly hot to the touch with its guitar-playing, if not more cleaned-up as a pop song, but it sings less elegantly: "keep your eyes on me," Nakajima repeatedly hammers the titular hook, growing more desperate for attention while the band thrashes around. She's also on the brink of ripping out her hair in "Right Brain Left Brain" trying to understand how others succeed at what she struggles to achieve.
While the anxiety behind the songs in Black feels intensely vivid when expressed through Tricot's furious math-rock scrawls, those same thoughts about ennui and ambivalence hit as poignant when the band mellows down their music. "Himitsu" sounds like a comedown not just because the music takes a breather after a extended burst of energy but also from Nakajima's bittersweet lyrics about waking up from a dream. "Abunakunakunai Machie" finds her returning to those daydreams about a city full of promise, but those idyllic fantasies fade more and more as the distortion creeps in.
The titular track closes Black with Tricot looking their best despite their stresses. The rhythm section locks into a steady groove, and Nakajima shouts out lyrics full of confidence: "Even if rain falls/ like tomorrow will even change," she goes, marching on despite the uncertainty that lies ahead. The band bows out unscathed from the darkness that haunted them down throughout the album, leaving their personal troubles as a secret between just them and their audience.
---
Singles Club
"A Faint New World" by Envy [Temporary Residence]
Envy return with a new album, The Fallen Crimson, as though the post-hardcore band didn't experience a near collapse from losing its key members, including frontman Tetsuya Fukagawa. "A Faint New World" welcomes the singer back into the fold with him patiently laying out lyrics of destruction and rebirth. While the band collectively explodes into a brief breakdown during the song's last third, they're a little hesitant to get completely loose. They quickly retreat into languid guitar figures, continuing their search for life's answers.
The Fallen Crimson is out now. Listen on Bandcamp.
"Melancholy Humanoid" by Infume! Dopechan [Doping!]
Rapper idols deserve to be treated as rappers proper with acts like Lyrical School, the now-defunct Koutei Camera Girl Drei and now Infume! Dopechan putting out great Japanese rap records. While the trio's new Doping! EP explores a variety of styles from neo boom-bap to speedy hip-house, "Melancholy Humanoid" is their "melancholic hip-hop idol" tagline exemplified with whisper raps laid over a mellow bedroom-pop beat. Don't let the softness of the production or the catchy extended chorus fool you, though: the three rap about complex questions about relationships and the future in an equally dense rhyme scheme.
Doping! is out now. Listen to it on Spotify.
"Ima Wo Moyasu" by Yoneko [self-released]
Throughout the years, Yoneko has been a part of different collaborative outlets such as Migma Shelter and New Fashion Food. From the sound of "Ima Wo Moyasu," ("Burning the Present") the former idol still has yet to settle into one thing. The shoegazing alt-rock paves a completely new direction following last year's lo-fi synth-pop material, but she has a full grasp of the style she's working with: she openly wears her influence on her sleeve, especially that Seiko Oomori-style ramble mid-way in. While she explores a different sound, the lyrics also observes a girl searching for her identity as a twenty-something: "There are no answers/ so I continue to burn," goes the titular refrain. Yoneko isn't entirely sure who she wants to be yet, but her search continues to be an exciting process to follow.
Listen to "Ima Wo Moyasu" on Spotify.
---
This Week in 1990…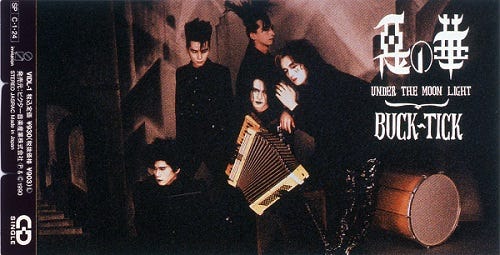 "Aku No Hana" by BUCK-TICK [Victor Invitation, 1990]
No. 1 during the week of Feb. 5, 1990 | Listen on YouTube/Spotify
There's a vast difference in the amount of number-one rock hits on the Oricon charts between the Showa (pre-1989) and Heisei (1989 and beyond) era. The top of 1990 already boasts an impressive list: The Blue Hearts, Princess Princess, B'z, Kome Kome Club, Lindberg, ex-BOOWY frontman Kyosuke Himuro. And among the popular names of this wave in J-pop history referred as the Band Boom is the flamboyant, U.K. goth-inspired outfit BUCK-TICK.
While BUCK-TICK's first number-one, 1988's "Just One More Kiss," introduced the pop potential hidden in the band's flowery, The Cure-like post-punk foundation, "Aku No Hana" brings back the stomping intensity of their earlier work. A brooding bass line growls underneath the creaking main guitar riff, and booming drums pound an insistent marching beat. Frontman Atsushi Sakurai is at the top of his game as a vocalist, hissing and hollering about at the center of the cavernous song.
Unfortunately, "Aku No Hana" is BUCK-TICK's last number-one entry on the Oricon Weekly. But you can observe a legion of wicked rock acts, such as Luna Sea and Shazna, that follows the spirit of the band emerge later on at the top of the charts in the '90s. BUCK-TICK was not the sole contributor to a hard-edged, glam-inspired rock at the turn of the '90s—BOOWY and X Japan from the same era claims bigger influence—but they were definitely one of the most exciting icons to introduce an alternative sound to the masses.
The next issue is out Feb. 19. You can read previous issues of This Side of Japan here.