Issue #9: Sakura Ga Saku Koroni
Exploring the new Dempagumi.inc album, an enka hit from 1975, and the old debate over idol groups who can't sing or dance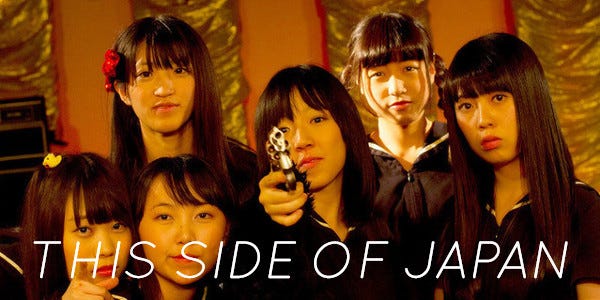 Hello! Welcome to This Side of Japan, a newsletter about Japanese music, new and old. You can check out previous issues here.
If you are a fan of Japanese idols, then you might find this situation somewhat familiar. You are asked by a panel of people to explain this about your favorite group: the girls are not great at singing or dancing, at least to the panel's standards, so what exactly is there to champion?
That's what a Bellring Shoujo Heart fan had to do on the variety show Beat Takeshi's TV Tackle back in 2014. A clip shown to the panel to provide a gist of the group's live singing describes it as "a level lower than a student performance"; the guests can't help but laugh hearing their very off-key voices. The segment ultimately concludes without anyone learning much about the reasons why the fans love them.
To be clear: not all idol groups are subject to this "can't sing or dance" angle. But that segment brought to mind how tough it can be to recommend some idol groups solely on the merits of the music or performance to those who have little to no familiarity. Well-made music at the very least seems like a simple, obvious thing to ask for from a pop act. But what if their records all lack the polish or skill set associated with a good record?
The quality of their singing may be subpar, but the appeal of Bellring Shoujo Heart's music is not too difficult to understand when listening to it solely as a piece of music. The group is more stylistically adventurous than the typical act, taking a lot from psychedelia, garage rock and British alternative in the group's three full-length albums: BedHead, Undo the Union and Beyond. One easy entry point for listeners of Western music is "c.a.n.d.y" from Undo the Union, which is basically a rewrite of Blur's "Song 2." (A harder obstacle is actually listening to the music with none of it currently available on streaming services.)
But is that good enough, that they play with a bunch of cool rock styles? The music can't fully cover for the fact the idols' own performance remains shoddy. Why don't I just listen to the bands they borrow from instead?
I'd argue Bellring Shoujo Heart pour enough enthusiasm to their music to offset their lack of empirical skill. It wouldn't be right, as a panelist did in the TV Tackle segment, to deduce that the idols are half-assing this. Listening to their songs feel like the idols wandered into these sounds for the very first time, eager to shape them into however they see fit while being ignorant to canon. It's exciting to see genres through their perspective, where new rules can be written and everything seems once again for the taking.
***
Just a heads up, I will blabber even more about idols in this issue for our Album of the Week. I also published a new edition of Idol Watch covering new singles that came out during March and April. I promise there's more exciting new music to discover other than idols, if not in this newsletter then maybe the Monthly Listening list or the monthly Spotify playlist. Happy listening!
---
Album of the Week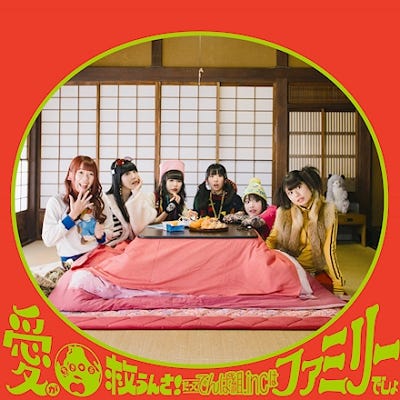 Ai Ga Chikyuu Sukuunsa! Datte Dempagumi.Inc Wa Family Desho by Dempagumi.inc [Toy's Factory]
Release date: April 15, 2020
Recommended track: "Moshi Moshi Internet" | Listen to it on Spotify
Despite the obnoxiousness of that long-winded title, which translates to "love is going to save the world! Because Dempagumi is family, of course," Dempagumi.inc's sixth album is their most sincere yet. If concepts behind the group's past albums, like the idols posing as alien overlords or a meta deconstruction of the idol business, got in the way of fully embracing their attempts for connection, Ai Ga Chikyuu Sukuunsa… presents their message of thanks and gratitude as wholesome as possible. The homely cover art tells it all: this is Dempagumi.inc at their most genuinely human.
That said, Ai Ga Chikyuu Sukuunsa… isn't Dempagumi: Unplugged when it comes to production style. While the fevered synths of their popular anthems still find a home here, the musical thrills of the album come from how far out they can push the borders of the Dempagumi sound while maintaining their identity. The middle section features a wide spread of fresh takes. "Nama Dempa" is a glitchy marriage of hip-hop and electro-funk. The idols take a stroll to the tune of mellow R&B in "Sakura Ga Saku Koroni." And "Watashi No Koto Aishiterukureta Takusan No Hitotachie" goes full-on rock 'n' roll for a sing-along dedicated to the "many people who loved us."
The latter track is one of the many call-outs reaching out to the so-called Dempagumi family. The album rallies the group's beloved audience right from the start with the title track, and its well-familiar spiked synth sound as well as a direct shout-out to the family functions as fan service. It's easy to imagine those same fans of the idol-otaku variety feeling catered to in "Hoshiburu Hikikomori No Yoru," a cheer-up song for house-bound introverts. The last stretch especially goes out to those who followed Dempagumi in the past year, specifically the people who were around for the news of Mirin Furukawa's engagement.
Dempagumi's constant thank-yous echoes as a personalized, heartfelt gesture to pay back all the support keeping in mind that Ai Ga Chikyuu Sukuunsa… arrives a decade after their major-label debut. But the group welcomes newcomers through this album, too. The looseness to how they adhere to style not only provides easy, diverse entry points but it makes for the group's least insular album.
It's also heart-warming to let Dempagumi sing to you regardless of your history with the group. "Maybe in life you don't have to try so hard," the idols sing in the chorus of "Hoshiburu Hikikomori No Yoru"; "when the cherry blossoms bloom, let's talk about nothing at all, let me just hear your voice," they sweetly ask in "Sakura Ga Saku Koro Ni." While Dempagumi are grateful for those who loved them as they are after all these years, it's comforting to know the most sincere messages in Ai Ga Chikyuu Sukuunsa… are sung over music that look beyond their immediate circle.
---
Singles Club
"Nexus" by 4s4ki ft. Rinahamu [SAD15mg]
4s4ki surrounds herself with a lot of company in her new album, Your Dreamland, yet a highlight from the record finds her singing, "I want to see my friends." Joined by Rinahamu from idol group CY8ER, the rapper shyly reminisces about her old life over a maudlin future-bass beat courtesy of KOTONOHOUSE. While she drifts in and out of feeling insecure about the people she associated with in the past, she snaps out of her cloudy mind with an affirming lyric: "right now, my friends are amazing."
Your Dreamland is out now. Listen to it on Spotify.
See also: "Teenage Vibe" by kZm ft. Tohji; "Banana Bread Pudding" by Serph
"Heartless Person" by Lovely Summer Chan [Make Some Lovely]
While Lovely Summer Chan went from acoustic to electric in last winter's "LSC2000," the singer/songwriter's new one towers even larger as she revels more in the roaring sound coming out of the amp. Not to be buried by the overblown fuzz, she makes sure her verses takes up as much of the gigantic space as possible by stretching her sighs into oblivion. From the dense feedback to Lovely Summer Chan's dazed, slacker attitude, "Heartless Person" wears a classic '90s rock cool.
Heartless Person / What Do You Want to Do? is out now. Listen to it on Spotify.
See also: "Yumeutsutsu" by Akai Ko-En; "24" by Otom
"My Heart Sensitivity" by RANASOL ft. Stereo Magic [Kawaii Dance]
RANASOL has been out and about this year, keeping up with hyper-speed dance beats as a featured singer on latest compilations like the FUGENE series, Jersey Club Re:Bible 01 and the SPD GAR series. For her latest one-off, "My Heart Sensitivity," she retreats more to a private place. The vocalist locates a dreaminess in the fizzy electro-pop beat handed by frequent collaborator Stereo Magic, and she colors the glowing music with feelings of first love. "Song and its sound/ My heart sensitivity," she sings in the chorus. She closes her eyes and lets the music take over.
"My Heart Sensitivity" is out now. Listen to it on SoundCloud/Spotify.
See also: "Parallel World" by Kamome Sano ft. KABOSNIKKI; "CapyCaT" by KARUT ft. Yuki Shizaki
---
This Week in 1975…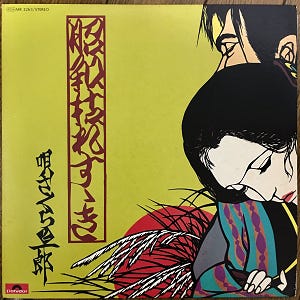 "Showa Karesusuki" by Sakura & Ichiro [Polydor, 1975]
No. 1 from the weeks of April 28 - May 12, 1975 | Listen to it on YouTube
Sakura Kawano and Ichiro Tokugawa perform enka in "Showa Karesusuki" as an aging couple struggling to adapt to the changing times. The two make good use of their position as a rare duo in a genre dominated by soloists, and they initiate conversation to set up more relationship melodrama in the already-weepy music. "Just throw me away," Tokugawa laments; "Why, but I love you so much," Kawano responds. The singers both raise their vocals as enka singers do, wailing about to communicate great sadness and hopelessness.
"Showa Karesusuki" sounds especially bittersweet 45 years after its release. "I lost to poverty," Ichigawa sings; "no, I lost to the changing times," Kawano clarifies. "Got chased out of this city, should we just end it here," they ask. While the maudlin narrative references the two's failure to transition into the hustle and bustle of the modern era, it could very well speak to the decline of enka in the Japanese music industry.
Enka still had a lot of life left in 1975, and enka singers often made it to number one throughout the rest of the '70s. But their presence gradually fades from the '80s on. Enka singers increasingly look like the odd one out next to the artists of today with the sound and style relatively unchanged since the '60s.
Perhaps you can detect influences of enka throughout Japanese pop history from arrangement choices, attention to narrative drama, and approach to voice. Appreciating and respecting the genre is a lot easier than redeeming it. The appeal of it reminds me of old blues, folk and country with songs focusing on a protagonist and their life woes while outlining their experience as a story. The vocals and arrangement help aid it, with the music setting the pacing and emotional color while the melismatic vocals dramatize the feeling. It's musical theater that remains singular to the point it sounds stuck in its own time.
Sakura & Ichiro updated their own repertoire in 2006. They tweaked the title of their notable single into "Heisei Karesusuki" to bring it up to speed while a new Sakura (Yamaoka) entered the line-up. And yet it still sounded like a Showa product with the narrative hardly influenced by the modern times. The more it get left behind, though, the more it ironically resonates.
The next issue is May 13. You can check out previous issues here.